So thanks to Pinterest I've found some cheap, affordable ideas for Christmas decorations/gifts. I have become somewhat addicted to Pinterest. It's such a great website to connect, inspire and mostly to organize. I can't say enough good things about it. Love, Love, LOVE Pinterest. So today I decided to try to make glitter snowflake ornaments for gift/decoration. With some trial and error I think they came out pretty good. 2 things I have learned while doing this project...
1. Dollar tree may have everything....for a dollar, but somethings are worth paying more for. In this case, it would've been a good idea to invest in better quality mini glue sticks. I was so delighted to find packs of 20 glue sticks for a dollar and they will totally work on projects where you aren't going to actually see the glue shape but for this project, totally go with the better stuff.
2. More is actually awesome. The wider and thicker you go with the snowflake the sturdier and prettier they will be :)
What you need:
Hot glue sticks
Hot glue gun
Simple snowflake pattern* (I printed mine from a google search)
Modge Podge
Glitter (in as many colors as you want to do)
Newspaper
Wax paper
Paint brush
Dish soap mixed with just enough water to make the soap spreadable but not sudzy
1. Lay out 2 pieces of wax paper and using a paper towel coat the wax paper with a light (LIGHT!) layer of barely soapy Dish soap. When you run your finger over it you want it to be slightly slick but not so slick that you can see it leave a trail of your finger through it.
2. place your pattern under the wax paper and start to trace with hot glue, play with it a little until you reach a consistency that you like. *make sure you pick a simple pattern because the glue will spread a bit. you want all the pieces to connect but i wouldn't go too fancy unless you are making HUGE snowflakes.*
3. Allow pieces to dry completely before removing from wax paper. Rinse with cool water to remove any excess soap and then dry with paper towel. The water should be cool to help harden off the glue if you use hot water the glue will become pliable again, you don't want the glue to be pliable at all.
4. Modge Podge. the. Shit. out of them then sprinkle with glitter. Dry. Apply second coat of Modge Podge and glitter if you desire super glittery snowflakes. I did two and I think they are fantastic.
5. Allow to dry overnight. Then hot glue hanger to the back. I am going to use thin string, but i imagine a christmas ornament hook would do just fine as well. If they are a gift you could do some type of ribbon.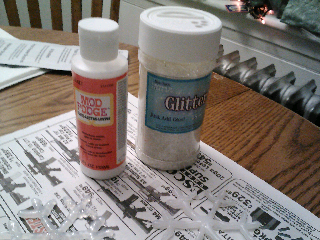 Happy Glue-Fest,
Love,
Tess